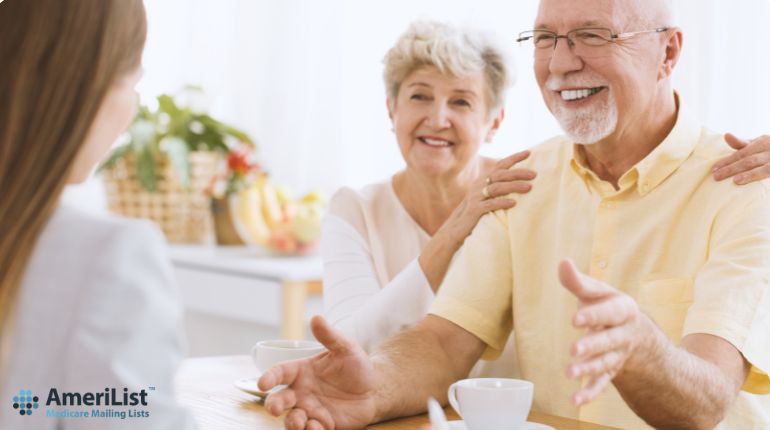 As we age, our insurance needs become more complex. Senior citizens must have the right insurance coverage to protect their health and finances. However, targeting this demographic can be challenging for insurance agents. This is where insurance mailing lists come into play. By utilizing these email lists, insurance agents can effectively connect with senior citizens and offer them tailored insurance plans to fit their needs.
In this blog, we will explore the benefits of using insurance email lists and why our mailing lists are the best way to reach senior citizens.
Understanding The Senior Citizen Market
When it comes to targeting senior citizens, it's essential to understand the demographic characteristics of this market. According to the United States Census Bureau, the senior population is multiplying, with 1 in 5 Americans expected to be over 65 by 2030. Additionally, seniors tend to have more disposable income and are likelier to own their own homes.
However, this market also faces unique insurance needs and challenges. Seniors are more likely to require health insurance, including Medicare coverage, life insurance, long-term care insurance, and annuities. Additionally, many seniors are on fixed incomes, which can make it difficult to afford insurance premiums.
Understanding these demographic characteristics and insurance needs can help insurance agents better connect with seniors and offer them the necessary insurance coverage. Utilizing insurance mailing lists can be a powerful tool in reaching this market and helping seniors navigate the complex insurance world.
By offering targeted, personalized messaging, insurance agents can establish trust with seniors and help them find the insurance coverage they need to protect themselves and their families.
The Power of Insurance Mailing Lists
Insurance mailing lists are targeted databases of potential customers who have expressed interest in insurance products or services. These lists provide a targeted approach to reaching senior citizens with insurance needs. With an insurance mailing list, insurance agents can narrow their search for potential customers based on specific criteria, such as age, location, income, and other demographics.
This allows agents to create more effective marketing campaigns and increase their chances of reaching seniors who are more likely to purchase insurance products. By utilizing an insurance mailing list, agents can also save time and money by focusing on a specific group of potential customers instead of casting a wider net. Insurance mailing lists are a powerful tool for connecting insurance agents with the senior citizen market.
Advantages of Targeting Senior Citizens with Mailing Lists
In today's world, it's becoming increasingly challenging for insurance agents to reach their target customers. This is especially true for senior citizens who may have more complex insurance needs and require personalized attention. However, utilizing insurance mailing lists is an effective way to connect with potential clients.
Here are some benefits of using an insurance mailing list:
Highly targeted marketing approach: Insurance email lists enable companies to narrow their marketing efforts to the specific demographic they want to reach. By focusing on senior citizens, insurers can tailor their messages and offers to meet the unique needs of this audience.
Increased response rates and conversions: When insurance offers are personalized and relevant, the likelihood of eliciting a positive response from senior citizens increases significantly. Mailing lists allow for targeted messaging and offers, leading to higher response rates and conversions.

Cost-effective marketing strategy: Traditional marketing methods, such as TV or radio ads, can be expensive and may not reach the intended audience effectively. Insurance mailing lists offer a cost-effective alternative by providing direct access to potential customers. This targeted approach maximizes marketing budgets and ensures resources are allocated efficiently.

Increased sales: By using an insurance mailing list, you can generate more leads and, potentially, more sales. This can help to grow your business and improve your bottom line.
Overall, there are several benefits of medicare lists for insurance agents who want to connect with senior citizens and improve their sales. It's a targeted and cost-effective strategy that can help to boost your engagement and sales.
Medicare Mailing List: A Recommended Provider Of Insurance Mailing Lists
Medicare Mailing List is a reputable company specializing in mailing lists to insurance agents. With over years of experience, we specialize in compiling and maintaining accurate mailing lists for insurance agents who want to reach seniors with insurance needs. Our team of data specialists continually updates and verifies the lists to ensure our clients target the right people at the right time.
The main benefit of working with us is our focus on customer service. We understand that every client is unique and has different needs and goals, so we work closely with each to tailor their mailing list to their specific requirements. Plus, our turnaround time is quick, so insurance agents can start targeting seniors with their offers sooner rather than later.
Another reason our email lists benefit insurance agents is that we provide demographic information about seniors, such as their income, zip code, and medical history. This data can help agents personalize their marketing messages and offer products and services tailored to each client's needs and preferences.
We are also helpful because we allow insurance agents to stay up-to-date on changes in Medicare coverage, benefits, and regulations. Agents can use this information to inform clients about any changes affecting their coverage and help them make informed decisions.
If you're an insurance agent looking for an effective way to reach senior citizens with your insurance products, working with our company is a wise choice. With our commitment to accuracy, data integrity, and personalized service, you can trust that your investment in our mailing lists will pay off in the form of new clients and increased revenue.
How Can Insurance Agents Use An Insurance Mailing List To Connect With Potential Customers?
Insurance agents can use insurance mailing lists as a targeted marketing tool to connect with potential customers interested in purchasing insurance policies. These lists contain names, addresses, phone numbers, and other demographic information of individuals interested in purchasing insurance.
One way that insurance agents can use these mailing lists is by sending out direct mail campaigns that are tailored to the needs of senior citizens. This could include information about Medicare Advantage plans, prescription drug coverage, or other types of insurance commonly sought by seniors.

Another way to use an insurance mailing list is to follow up with potential customers who have requested more information about insurance policies. Using the contact information provided on the mailing list, agents can connect with these individuals and provide personalized recommendations based on their unique insurance needs.

Insurance agents can also use insurance mailing lists to stay in touch with current customers and offer them new policy options or upgrades. By using these lists, agents can build strong customer relationships and increase customer loyalty.
Insurance mailing lists are an invaluable tool for insurance agents looking to connect with potential customers and grow their businesses. Using these lists strategically allows agents to increase their visibility, generate life insurance leads, and ultimately boost their sales.
Conclusion
Insurance mailing lists provide insurance companies with a powerful tool to reach senior citizens and address their unique insurance requirements. By partnering with a reputable provider like Medicare Mailing List, insurers can benefit from highly targeted marketing, increased response rates, and a cost-effective strategy.
By implementing effective marketing techniques and following best practices, insurers can maximize their results and tap into the vast potential of the senior citizen market. In a rapidly evolving insurance landscape, utilizing insurance mailing lists is the best way to connect with senior citizens and provide them with the coverage they need for peace of mind in their golden years.